Mission Street is the 7th stage in Hero Story. It is a cycle-based stage, meaning that losing small amounts of time on certain parts of the stage will make you miss a cycle, losing even more time. "0 cycle" is what we call the fastest cycle, since it is faster than our previously-though fastest cycle.
Big Strategies
Weight Hop
After grabbing the hover, you will run forward to a falling weight. With a tight hover jump, you can land on top of the weight. Using a pause hover will make the trick even easier.
IGT Abuse at the Upgrade
While on the upgrade text, the timer stops, but the cylinder cycles keep moving, so you can actually wait on the upgrade text longer to save more IGT without losing RTA.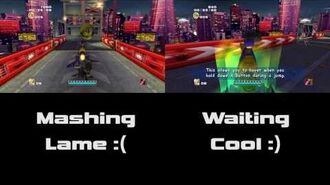 Tutorial